Renting commercial space is one of most essential aspect of real estate agencies and for those who work as real estate agents. Several property elements are given on rent for accommodation of house, office, factory, bank, commercial business etc. Commercial lease agreement or contract is written between two parties to follow the terms and conditions of lease contract. Writing this agreement is necessary to avoid any conflict and dispute on property. Commercial lease contract also serves as legal proof to handle if any dispute happens to occur during lease contract. This agreement is very convenient both for tenant and landlord.
Sometimes, implied and unfamiliar terms and conditions are written in lease agreement that is not even understood by both the parties. Then how can they follow these terms and conditions. Lease agreement for properties must base on valid, sound and enforceable terms and conditions. If you are looking for writing right terms and conditions in commercial lease agreement for properties, you are at right place to learn important elements of this agreement. Given below are some of key elements of commercial lease contract for properties.
Always start writing lease agreement with its proper title for example, "Lease Agreement for Properties".
Names and other particulars are necessary to write in lease agreement that is going to be accomplished for leasing property. Complete name, address and contact information of both parties is mentioned in lease agreement.
Now mention description of property that you want to give on lease and rent. Give all necessary details about property including space, building, services etc.
Amount of rent or lease must be mentioned in dollar form while writing lease agreement for property. All deductions and security deposits must be mentioned in this section of commercial lease contract for properties.
Particular duration for commercial lease agreement must be mentioned in this agreement to make both parties convenient in coming to know about time and duration of agreement.
It is also essential to write what are lease and rent collecting terms and ways. Way for rent collection may include bank deposit, cash in hand, debit card etc.
Payment of utilities must be clearly mentioned in lease agreement for future convenience.
Use of rented property must be clearly discussed in lease agreement whether property is used for legal and fair purposes or not. Landlord is independent to give permission or restrict the renter.
If landlord wants to offer any of property related services to renter or tenant, it should be written in lease agreement for properties. This would be very convenient for renter and landlord to precede the contract in future.
Keeping pets in rented property or space is also very critical issue with tenant and landlord. This point must be discussed in lease agreement whether landlord allow to keep pets or not.
Lease agreement must be signed by both parties.
All these are essential elements of commercial lease agreement for properties and you must consider these factors to write a professional like and complete lease contract.
Here is preview of a Free Sample Commercial Lease Contract Template created by ContractGuru.org,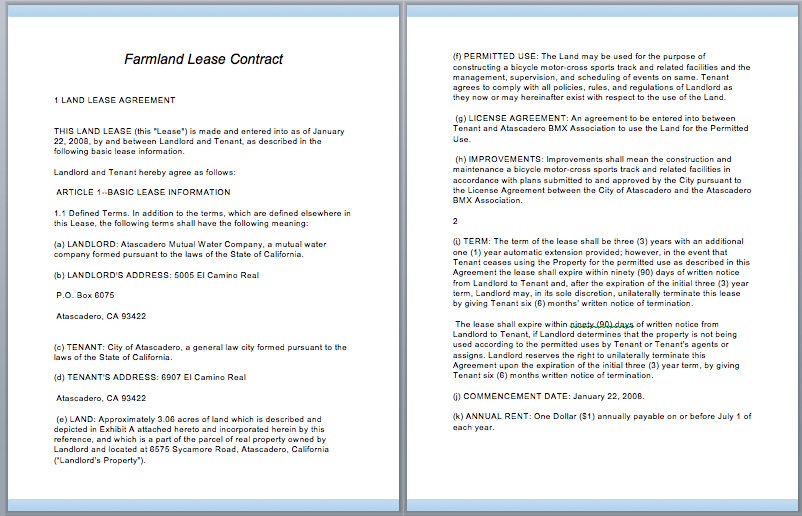 Here is its download link,
Contract Templates, MS Word Templates