Tear off flyers are idea tool to advertise your products. These flyers are considered best promotional tool to make your product or service successful. Any purpose for which you are required to make a tear off flyer, you don't need to be an expert of flyer designing or to hire services of professional flyer designers, you can do this job by your own. To make a simple graphic designer, there is no need to call graphic designer in order to perform this task. Flyer can be prepared by you if you are familiar with word processing. By reading this article, you will get useful tips to make a tear off flyers by your own but if you are interested in getting a pre-designed flyer; you can visit Tear Off Flyer Template.
Consider following tips to make your tear off by word processing:
Open MS Word, go to the page setup. You will find page setup menu under "File" Here you will set the page margins by making sure that bottom margin is small about 2". It will be the place, where you will show tear-off strips.
In next step, include basic information about what you are promoting or selling. Don't forget to ensure that all facts regarding your product or service are there. For instance if you are selling soap, you should include all ingredients of soap, manufacturing details and picture of soap along with its price. Think about preparing your flyer from user's perspective.
You should leave sufficient space below your information. You will add here contact information including your name, phone number and your office address along with email address if appropriate.
Make your information center-justified by choosing a font that is easy to read and adjust its size. Highlighting entire page will urge customers to read it.
Always keep in mind about choosing color scheme of font and try to choose attractive colors that must be easy to read, if you are considering an option of color printing. Don't sacrifice on readability.
If you are thinking to add picture or want to use some graphic elements, you can do it well if you have skill to manage this. Applying a simple border to your flyer by following "Format" menu will make your flyer stylish.
Go at the end of your flyer and reduce here font size near about 10 pt.
Go to "Insert Table" by following "Table" menu and set a table of eight columns and one row.
Text that you will insert in this table should be rotated at 90 degrees. You can rotate this text by having a right click inside the table. It will give you a menu with "Text Direction"
After it, type the information that you want for your tear offs. This type of information is usually of name and phone number. Once you have written in one cell of table, copy this text and start pasting it in other seven cells. Doing this will save your lots of time.
You should consider proofread option to remove any errors from your flyer before printing it.
Print this flyer on white or colored paper as per your desire.
Make cuts between tear-off segments by making them easier to tear with the help of scissors or cutter as per your convenience.
Here is a good looking For Sale Flyer with Tear Off created by FlyerTemplates.org,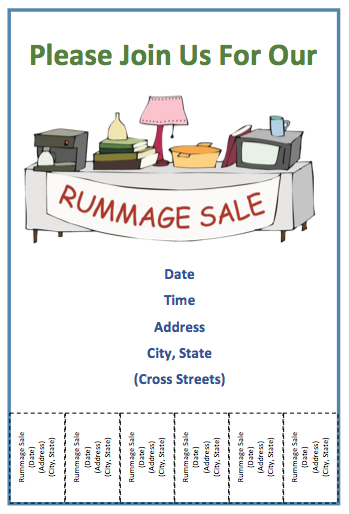 Flyer Templates